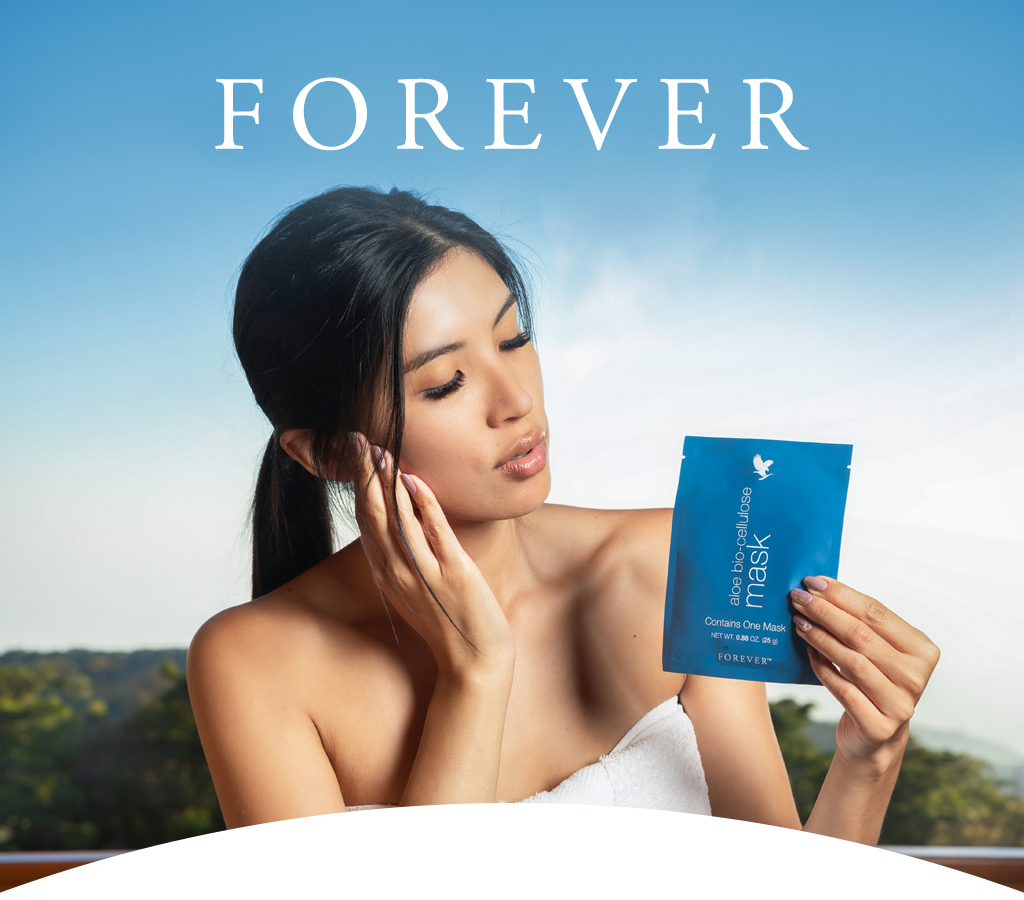 Forever's Aloe Bio-Cellulose Mask provides powerful hydration thanks to forward-thinking technology and natural ingredients. Its bio-cellulose fibres fit the contours of your face to deeply moisturise, and to ensure every impressive botanical penetrates the fine lines and wrinkles traditional sheet masks fail to reach.
Through a process unique to Forever, Aloe Bio-Cellulose Mask's formula fuses pure aloe and seagrass with the bio-cellulose fibres to soothe, soften and condition skin.
This environmentally-friendly mask has also been enriched by a moisturising serum of green tea and horse chestnut that rejuvenates dull skin by combatting the signs of ageing and reducing the appearance of redness.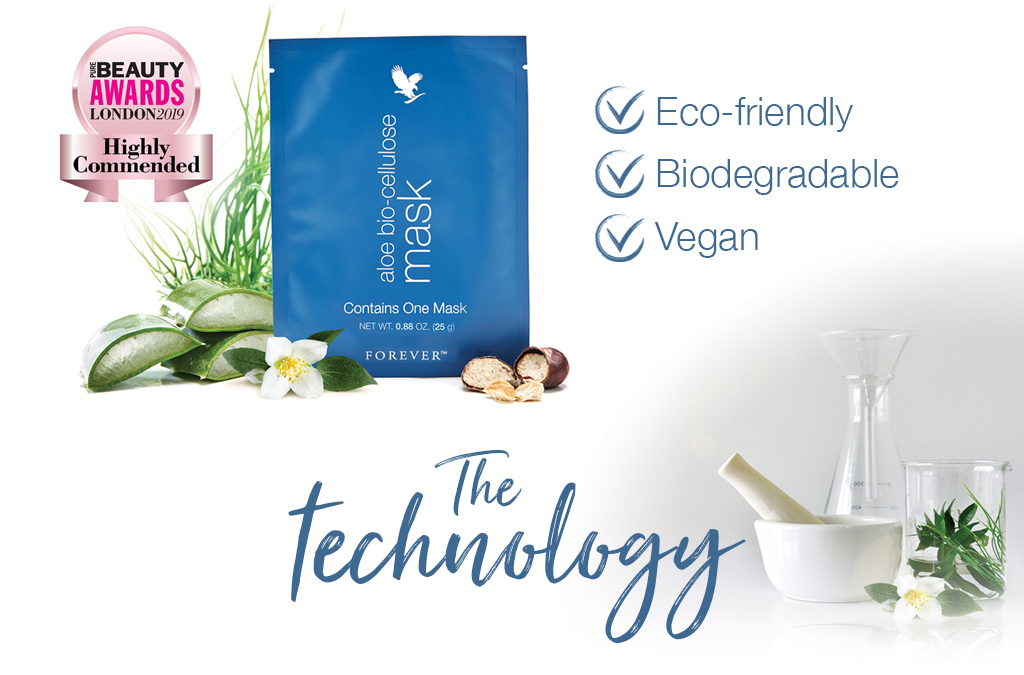 What makes this mask different to others on the market?
Forever's Aloe Bio-Cellulose Mask is made in a controlled environment by a special microorganism that ferments and creates a bio-cellulose fibre. During the fermentation process, this bacterium is fed seagrass and aloe vera gel from our own plantations. These ingredients then fuse directly into the bio-cellulose fibre to make a mask material unlike anything you've ever felt before. The fibres are 1,000 times thinner than human hair and moisture retentive, allowing the mask to fit tightly to the contours of your face and reach fine lines and wrinkles more effectively than traditional masks.
This technology, combined with Forever's exclusive blend of ingredients, provides dual-phase benefits making it unlike any other mask on the market today!

Forever's most advanced mask yet brings you powerful hydration that absorbs deeper into the skin. It takes seconds to apply and requires no rinsing.
Acetobacter xylinum, the bacteria that creates bio-cellulose, is fed Forever's aloe vera gel and seagrass, fusing them directly into the mask material to hydrate, soften and condition skin.
This new mask deeply replenishes skin with powerful hydration, and rejuvenates dull skin to help fight the signs of ageing.
Forever has partnered with an environmentally-friendly, LEED certified facility to produce these masks in an eco-friendly way using our formula and ingredients.
Every part of the mask itself is 100% compostable so you can experience ultimate comfort and protect the environment.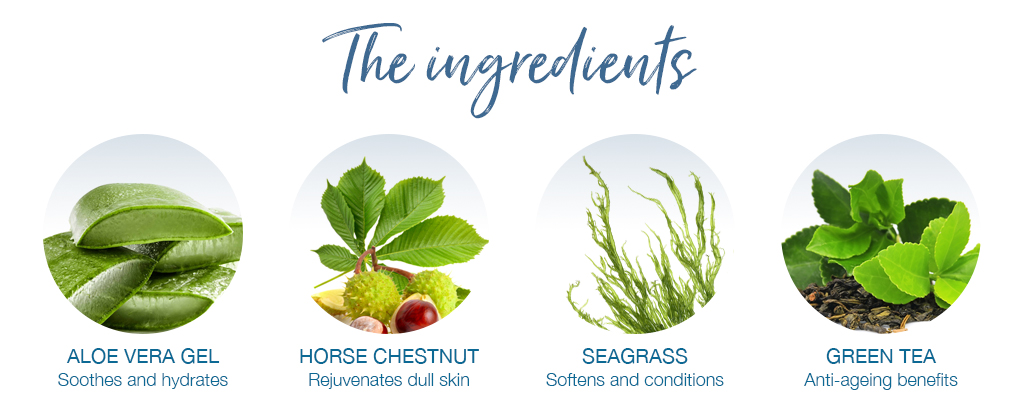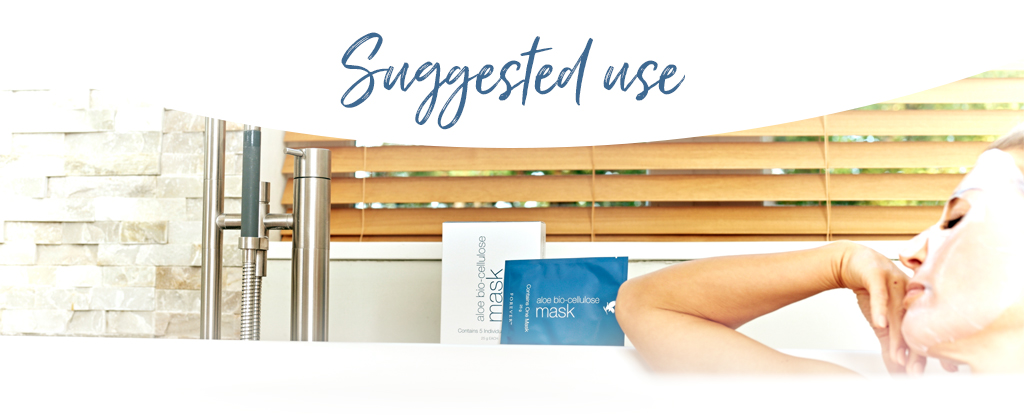 1 Open pouch and unfold mask.
2 The mask is protected by woven fabric on each side. Remove one layer and discard it.
3 Apply the mask to the face. Gently press to ensure it fits securely.
4 Remove the second layer of woven fabric and discard it.
5 Remove and discard the mask after about 20 minutes.
There's no need to rinse, simply massage the remaining product into the face and neck for a youthful appearance.
---
Click here to download the Step-by-Step mask guide
---
Buy the masks (box of 5) here